Publications About The Firm
Thornton Williams - Recognized as a Pioneer in the Practice of Transportation Law
Warning
: Trying to access array offset on value of type bool in
/var/www/wp-content/plugins/wp-smush-pro/core/modules/class-png2jpg.php
on line
155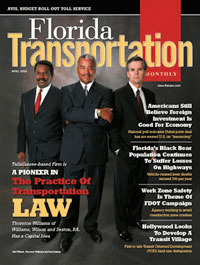 Williams, who served as general counsel for FDOT from 1990-96, stays in close proximity to state government and the mammoth transportation agency where he once worked.
Williams left FDOT in 1996 to join Rumberger, Kirk and Caldwell as partner. Two years later, Williams launched Williams, Wilson and Sexton, P.A. (WWS), a law firm concentrating on a new area of practice: transportation law. "We chose transportation law because the principals of the firm are all former FDOT lawyers," said Williams. "As we considered private practice, with our background in transportation law, it was a natural fit," he added. "I don't know of any other firms that specialize in transportation in the manner that this firm does," said Pam Leslie, FDOT general counsel.
Both of Williams' partners, Mel Wilson and Paul Sexton, have FDOT experience. Wilson spent 14 years as district general counsel for FDOT in Fort Lauderdale and served a stint as a litigation attorney in FDOT's Tallahassee office. Today, he runs the firm's Fort Lauderdale practice. Sexton served as staff counsel for the Florida Public Service Commission from 1977 to 1986, spent six years in private practice and returned to government service in 1992 when he joined FDOT's office of general counsel.
In 1994, he was appointed chief counsel for the agency's Administrative Law Division where he served until 1998. Williams' experience in government started in 1982 as an assistant state attorney prosecuting criminal cases in the Second Judicial Circuit. He also served as an assistant general counsel to the Governor, staff attorney and deputy general counsel for the Department of Business Regulation.......
Thornton Williams General Legal Accomplishments and in the Field of Transportation
Deputy General Counsel of Florida Department of Business Regulation.
County Attorney for Gadsden County for 5 and a half years.
General Counsel of the Florida Department of Transportation.

Provided legal advice on an annual 7 billion dollar transportation budget.
While there, he created more diversity in staff and outside vendors.
Revamped the entire legal office substantive operation which is the footprint for today's operation of the legal office.
Redesigned the physical layout of the office.
A part of the financial recovery of FDOT in 1990- which had a 300 million dollar deficit when he joined the FDOT.

Coined the term "transportation law". See the article on this.  https://twalaw.com/myJSSImages/file/FTM_April_2006%20WWS%20Cover%20Article.pdf.
Negotiated a 10 million dollar settlement for his client who was responsible for installing SunPass. The settlement was recognized as the reason that SunPass survived and was completed.
Wrote all protocol for SunPass Collection for toll violator collections.
Attorney for the Orchard Pond Toll Road in north Tallahassee. A 16 million dollar private toll road project.
Recently (this past April, 2019), successful defended a client in a 63 million dollar bid protest, in the transportation arena.
Has published more than 50 articles on transportation.
Has published a national article on transportation issues.
Recognized as one of the top transportation lawyers in Florida.
Recognized as "Mr. Fix it" for transportation in Florida.
Has a statutory provision named after him, called the Thornton Williams Provision.
General Counsel for the Capital Region Transportation Planning Agency, a governmental transportation agency in Tallahassee.
He has had multiple articles written about him.
Rewrote most of the statutory regulations for the utility industry, in the area of transportation, over a 10 year period, in section 337.403.
Has routinely represented clients in multi-million dollar matters.
Former Chair of the Advisory Board of the Center for Urban Transportation Research Advisory Board (CUTR) which oversees a 19 million dollar annual budget on transportation research).
Former chair of Floridians for Better Transportation.
Thornton was recognized as one of the top lawyers in transportation for 2016, 2017, 2018, and 2019, in Florida, by the Miami Daily Business Review.
Thornton received an "AV Preeminent" rating from Martindale-Hubbell, on his first review. Martindale-Hubbell is the oldest lawyer rating company in the country and an AV rating on the first review is reserved for less than 2% of all lawyers, nationally.  He has maintained an AV rating.
Provided legal services on the Miami Intermodal Center (2.0 billion dollar transportation project)
Provided legal services on the I-595 Express (1.8 billion dollar transportation project).
Thornton Williams Provision
While General Counsel of the Florida Department of Transportation, Thornton Williams was able to pass legislation on behalf of the FDOT that modified how the Outdoor Advertising Industry was regulated. In 1999, a memorandum was released by the FDOT's Office of Right Way explaining the amendment and naming the provision after Thornton Williams, calling it the Thornton Williams Provision.