Publications About The Firm
Thornton Williams - Recognized as a Pioneer in the Practice of Transportation Law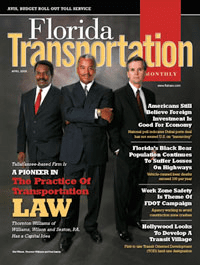 Williams, who served as general counsel for FDOT from 1990-96, stays in close proximity to state government and the mammoth transportation agency where he once worked.
Williams left FDOT in 1996 to join Rumberger, Kirk and Caldwell as partner. Two years later, Williams launched Williams, Wilson and Sexton, P.A. (WWS), a law firm concentrating on a new area of practice: transportation law. "We chose transportation law because the principals of the firm are all former FDOT lawyers," said Williams. "As we considered private practice, with our background in transportation law, it was a natural fit," he added. "I don't know of any other firms that specialize in transportation in the manner that this firm does," said Pam Leslie, FDOT general counsel.
Both of Williams' partners, Mel Wilson and Paul Sexton, have FDOT experience. Wilson spent 14 years as district general counsel for FDOT in Fort Lauderdale and served a stint as a litigation attorney in FDOT's Tallahassee office. Today, he runs the firm's Fort Lauderdale practice. Sexton served as staff counsel for the Florida Public Service Commission from 1977 to 1986, spent six years in private practice and returned to government service in 1992 when he joined FDOT's office of general counsel.
In 1994, he was appointed chief counsel for the agency's Administrative Law Division where he served until 1998. Williams' experience in government started in 1982 as an assistant state attorney prosecuting criminal cases in the Second Judicial Circuit. He also served as an assistant general counsel to the Governor, staff attorney and deputy general counsel for the Department of Business Regulation.......